Maintenance and Support
2014-06-13 02:00:49
It is hard to maintain a tool like the
hogventure
draftercraft editor
, if you are alone on your own. If this
piece of software has more than one component, a note
editor, a drawing tool, a music composer, a source-editor, a
media manager and translator on the client side, on server
side a login, chat, persistent storage, share and
cooperative work, it was impossible.
That's a full time job.
I do not have so much time, a good reason to make QA, the
Quality Assurance, easier for me now. Spare time is a rare
source in my life.
Also I want to make games, build more advanced tutorials. I
want to show you how to's. Like:
- adding background-images to notes.
- formatting the text
- creating an editor with the game-engine
- embedding foreign, external sources to create 3d games
I'm willing to add and discus more advanced tips and tricks.
So today's maintenance is a bug fix for the delete
connection method, the new features edit connection and the
upload to dropbox and download from dropbox buttons. It is
an option in the preference dialog, which is also new.
Still I'm working on the windows8 version and the google
webstore app.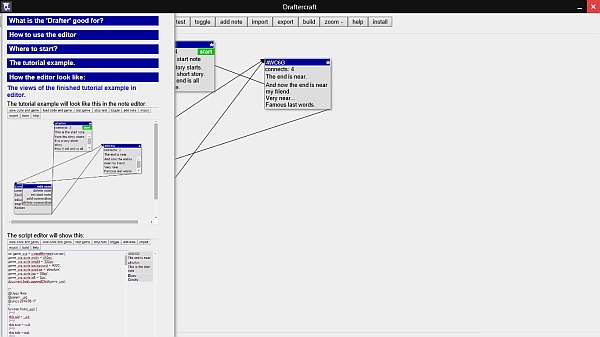 work in progress windows 8 version
Ooh, I have almost forgotten to mention the feedback button
on the right hand side of draftercraft.
Whenever you have a feature request, want some hints, have
other suggestions, please feel free NOT TO SCREAM AT ME!!!
Even if you find a bug or something that looks like one,
report it to me.
Like this evil thing: After installing the Application with
the install button - I used Firefox - export and build
options do not work. The file has the size of 0 kb. Please
fix this bug ....
Hm, there is a little problem. I can not fix it. This is a
known issue with the current versions of Firefox OS apps on
desktop environments. Not very well documented, by the way.
How should you know?
I will try to find a work around, if I can identify a Firefox app via code.
(Meanwhile the problem is double fixed. I've build in a work
around - export via copy and paste - and Firefox Apps' engine
seems to be bug-fixed.)
Telling me about your wishes, your use cases and experiences
will help me to improve the app. I need your support. Please
try the app and tell me and your friends.
Use the feedback button on the right of the app.
Use the disqus forms. Email me. And if you want to support
the app use the social buttons to tell your friends and
followers.
Please feel free to review the code on
github.com/maltekosian/drafter
,
because hogventure's draftercraft is open source. May I
mention the donate button on the left?
Share the article: